CYCLING WITH ELISA BALSAMO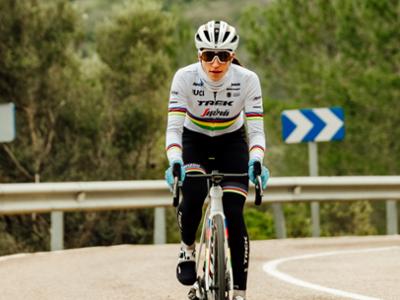 The Cuneo Alps boast a well-developed network of hiking and biking trails, such as the Via del Sale, which connects Limone Piemonte to the Ligurian Sea along high-altitude dirt roads. Take to the saddle with Elisa Balsamo and Diego Colombari, world ambassadors of cycle tourism in the province of Cuneo.

Marta Bassino, Italian skiing champion, represents the beauty of the Cuneo area: passion and determination, courage and extraordinary ability. Michele Biglione, a Paralympic athlete, conveys all his strength and will to live with his arms. These four are the perfect testimonials for the Cuneo Alps, a location to be experienced in all four seasons.

In winter, the Cuneo mountains offer modern ski resorts with a long tradition, and slopes that cater for all levels of winter sports enthusiasts: from the most demanding sportsmen and women, to families seeking fun and relaxation, those approaching skiing for the first time and those in search of exciting holidays in the snow.

In summer, the alpine amphitheatre becomes an open-air gym for outdoor activities in direct contact with unspoilt nature: hiking, climbing, biking, rafting and paragliding. Live your passion to the full in the Cuneo region!
Elisa Balsamo - Road bycicle world champion
Diego Colombari - Paralympic gold medalist