ROCCAVIONE: HISTORY AND CURIOSITIES
The municipality of Roccavione lies in a flat area at the point where the Gesso and Vermenagna valleys meet. The protohistoric site of Bec Berciassa, the Chiesa Parocchiale and Chiesa della Confraternita di Santa Croce are the places that best tell the story of a community that has deep roots.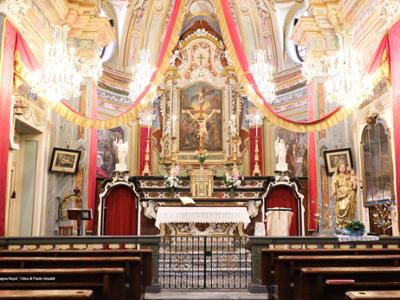 The old town centre of the village of Roccavione, located at the foot of the Rupe del Santo Sudario, is characterized by small streets and lanes, marks of its ancient past. Recent archaeological studies have shown that the place where the town stands was inhabited by Celtic-Ligurian populations from as early as the Bronze Age . In a document dated 1041, it is indicated as Rocha Corvaria (rock of the crows), but its current name dates back to the 12th century and refers to the founder of the settlement (Roccaguidone).

The element of greatest artistic value in the town is the Chiesa della Confraternita di Santa Croce, a building with a Greek cross floor plan believed to date to the end of the sixteenth century and completely rebuilt just after the middle of the eighteenth century. The large Parrocchiale della Visitazione di Maria Vergine is also worth a visit.

The historic centre and its surroundings preserve an important repertoire of votive chapels built between the sixteenth and eighteenth centuries: such as the Cappella dell'Assunta, Cappella di San Rocco and Cappella di San Biagio. The area also features several Liberty-style villas built in the early decades of the nineteenth century.

The main events in the town's history include the curious La Rocca dei Catari historical re-enactment, which takes place every two years in June. It recalls the centuries of the Middle Ages in which Roccavione was nidus haereticorum and probably the most important centre in terms of Italian Catharism. In the first ten days of October, the Sagra del Marrone is staged, considered the oldest local food festival in Piedmont.

Two majestic sequoias stand tall among the monumental Italian trees in the garden of a villa destroyed during the Second World War. The tallest of these reaches 50 metres in height, while the second is slightly smaller but has a circumference of 10.5 metres.
CUNEO ALPS: YOUR PERFECT HOLIDAY. VERMENAGNA VALLEY