VALLE GESSO
WALKING THROUGH A REGAL VALLEY
Valle Gesso opens like a fan behind the village of Valdieri, climbing all the way up to the 3297-meter peak of Mt. Argentera. The southernmost ice patches in the Alps are located here among these ancient rock folds, just forty kilometres as the crow flies from the French Riviera. As both a national boundary and a climatic divide, Valle Gesso always offers fragrances of nature and biodiversity.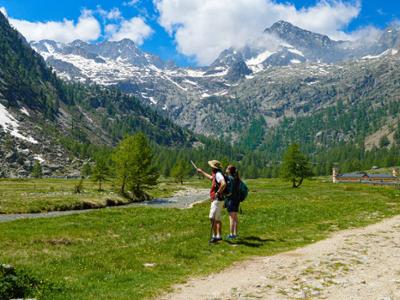 It was the traditional hunting grounds of the House of Savoy and a protected area until 1980. Now, Valle Gesso is home to about 2000 different types of plant species, including almost one fourth of the entire national flora. This special natural paradise has 24 different peaks that surpass 3000 metres in height - Clapier, Gelas, and Matto are all really satisfying to climb - and over 80 alpine lakes that reflect the light and shadows of a wilderness that is waiting to be discovered.

The well-connected network of trails promoted and enhanced by the Parco Naturale Alpi Marittime depends on ten alpine refuges and seven unmanaged bivouac shelters for authentic mountain adventures, like the challenging Alta Via dei Re, a seven-day hike with a positive altitude difference of over 5500 metres. A range of daily itineraries are available with different levels of difficulty, suitable for the whole family. Visitors can see lovely landscapes, like the Gorge della Reina at Entracque, or small hidden treasures like the Grotte del Bandito of Roaschia, the only cave system in the entire valley. Avid walkers who love relaxing trails can try the new Sentiero delle Farfalle (Butterfly Trail) that starts at the foot of the natural reserve, Riserva Naturale di Rocca San Giovanni-Saben. There are many types of butterflies, and maybe hikers will be lucky enough to spot the colourful and super-rare Papilio alexanor.

In Valdieri, guests can see a proto-historical necropolis dating from the Bronze and Iron Ages, enhanced in 2013 by a reconstruction of settings typical of that time. Moreover, Italy's highest health spa is located here at 1370 metres a.s.l. in the hamlet of Terme di Valdieri. The municipality of Entracque is the location of the Centrale Idroelettrica Luigi Einaudi (electrical plant) and the Centro Faunistico Uomini e Lupi, which explores the relationship between people and wolves. Next to the rooms where historical, scientific and anthropological information about wolves is displayed, guests can also see a fenced area of eight hectares where a small number of Italian wolves (Canis lupus italicus) are taken care of since they can no longer live alone in the wild.

A range of typical local products include different types of dairy products, Entracque potatoes and the gastronomical tradition of Roaschia, which is known for a particular breed of milking sheep, the "frabosana-roaschina". This rustic and frugal animal knows how to get the most from the stony mountain pastures and it can adapt to barely accessible parts of the most inhospitable cliffs.

CUNEO ALPS: YOUR PERFECT HOLIDAY. GESSO VALLEY