ROCCABRUNA AND THE ARCHAEOLOGICAL SITE OF ROCCERÈ
Formerly made up of more than 90 hamlets, four of which are scattered over the green heights at the entrance to the Maira Valley, the village of Roccabruna is today known for the Roccerè, an important Bronze Age rupestrian art site of international interest and its trails, as well as for its two sports centres with football pitch, swimming pool, equipped gymnasium, small sports hall and bowling alley.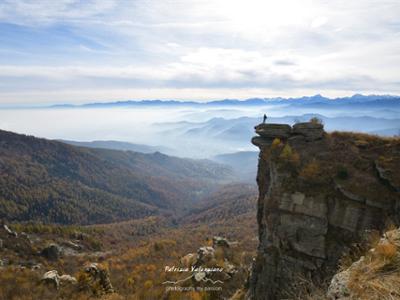 The archaeological site of Roccerè has its privileged access point at Sant'Anna di Roccabruna, where the visitor centre is open from June to September and from where the dedicated footpath starts. Also in the Sant'Anna hamlet, where the 'grandparents' sanctuary is a place of devotion during the summer months, it is possible to visit the Partisan Shelter of the 104th Carlo Fissore Garibaldi Brigade, one of the most representative sites of the Resistance in the Maira Valley.

The refuge, the centre of the Sentieri della Libertà network, is equipped to be used as a stopover place for multi-day treks. The area offers no shortage of outdoor opportunities, thanks to the new trail network that includes: the Vie de en Bot; the three rings of Sant'Anna; the Sentiero Balcone (Balcony Trail); the Occitan Routes and a dozen other routes between the hamlets.

Roccabruna is crossed by the well-known Strada dei Cannoni (Cannon Road), built for military purposes, now an attractive itinerary for nature lovers, which can be travelled on foot or by mountain bike. That's not all: there is also the possibility of climbing above the hamlet of Castello, where the climbing and rock-climbing gym known as the Castlas is located, characterised by a set of vertical towers whose challenging pitches are protected by bolts, traditional pitons and nuts.

Not to be missed in September and October in Roccabruna are the Filiera del Legno and Fiera di Valle events which aim to promote local production and the exhibition of the craftsmen of the Maira Valley, a social initiative combined with the traditional chestnut fair open to all. In addition, the patron saints' festivals of Sant'Anna, San Magno al Norat, Maria Vergine Assunta Borgata Centro, San Rocco Borgata Castello, Sacra Famiglia, San Bartolomeo and San Giuliano are festive moments that unite the traditions and values close to the hearts of the people of Roccabruna. Occitan inns, restaurants and trattorias are a temptation for lovers of good food and traditional flavours, with a focus on mushroom dishes.
CUNEO ALPS: YOUR PERFECT HOLIDAY. MAIRA VALLEY