ENTRACQUE
TREASURE OF THE VALLE GESSO
Entracque, in Valle Gesso, offers visitors the opportunity to practice a variety of sports all year round. A tour of the town's hydroelectric power station, the largest in Europe, is a must, as is a visit to the "Centro Faunistico Uomini e Lupi", an interesting interactive museum where specimens of the Italian wolf, or Canis lupus italicus, can be observed.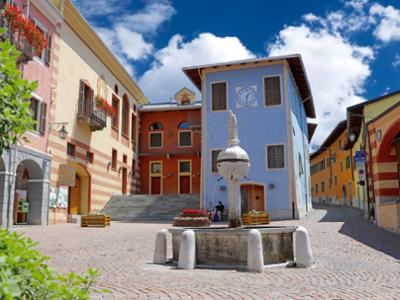 Entracque is a town in the Valle Gesso listed as one of the protected areas of the Maritime Alps, a natural park that jealously guards an unparalleled treasure chest of biodiversity. The town boasts a historical centre with numerous fountains and churches. Some of those most worthy of a visit include the Parrocchiale di Sant'Antonino martire, the Confraternita di Santa Croce, decorated with beautiful seventeenth-century canvases, and the Santuario della Madonna del Bealetto, with walls covered in ex-voto paintings. The Museo di Arte Sacra inside the parish church is well worth a mention. Every five years, the old town becomes the scene of an unmissable traditional event: the ancient "Parlate", a re-enactment of the Passion of Christ.

Upstream of the town there are two large artificial basins used for the production of electricity: the Piastra dam and the Chiotas dam, at about 2,000 metres. The hydroelectric power station, one of the largest in Europe, is built entirely in the rock and can be visited free of charge. The "Centro Faunistico Uomini e lupi" is a very interesting interactive museum that leaves young and old alike speechless. In addition to the wolves' enclosure and the museum itinerary in Casermette, at the headquarters of the Parco delle Alpi Marittime, visitors can tour a second exhibition space. Set up in the areas adjacent to the Tourist Office, in the centre of Entracque , this is where the story of the often difficult relationship between wolves and humans is told.

In Entracque, outdoor sports enthusiasts are spoiled for choice. In winter, Nordic skiing fans can count on an organized cross-country centre with 35 km of slopes, but the location also offers Alpine skiing slopes and routes for treks on snowshoes. Summer is the season for hiking and mountain biking, with countless kilometres of routes available. There is also a splendid via ferrata and a swimming pool with a large sunbathing area, surrounded by the Alpine peaks. Worthy of mention is the Rifugio Pagarì, at an altitude of 2,650 meters, with a micro brewery that boasts the distinction of being the highest in Europe. From the top of that same summit, you can catch a glimpse of the sea of the Côte d'Azur.

Food and wine lovers should ensure they do not miss out on the local cheeses, and try the local delicacy: cuiette, gnocchi handmade with the famous potatoes from Entracque.
CUNEO ALPS: YOUR PERFECT HOLIDAY. GESSO VALLEY