ELVA
THE JEWEL OF THE VAL MAIRA
A small mountain village overlooking the Val Maira at 1,637 meters above sea level, Elva can be reached by ascending from Stroppo or descending from the Sampeyre hill. Narrow mountain roads nestled in the silence of nature lead to the central hamlet of Serre, where the ancient and authentic atmosphere of the place immediately rewards those who have travelled the long road to get there.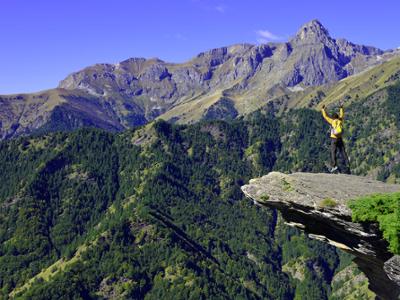 The exquisite late-Romanesque parish church, located at the bottom of the panoramic square, houses one of the treasures of these "Terre Alte" or "High Lands". It is the amazing cycle of frescoes by Hans Clemer, a Flemish painter who became well-known at the end of the 15th century in the valleys of the Marquisate of Saluzzo. Famous for his innovative technical choices, in 1493 he created a cycle of frescoes depicting scenes from the life of Mary and a majestic crucifixion in the presbytery and apse of the church, which earned him the title of "Maestro d'Elva".

As you stroll through the stone houses, stopping to visit the rather bizarre Museo dei Pels is a must. It is dedicated to the memory of one of the ancient crafts in vogue among the valley dwellers of the late nineteenth century, that of the hair collector. Back then, throughout northern Italy, women's hair was collected in exchange for a few pennies, or for fabric and scarves. It was then sent to Elva where it was expertly processed for use in the exquisite wigs in high demand at the time, also popular with many English lords and European aristocrats.

Today, the Fremo Cuncunà, a spur of rock that stretches out into thin air on the Vallone di Elva, is only one of Elva's natural beauties that forces hikers to stop in their tracks. Its particular shape makes it the ideal setting for creating high-impact photographs. The Fremo can be reached in about forty-five minutes on foot from the small square in Elva, and is approximately a ten-minute walk from the La Sousto dal Col lodge.

Avid foodies will not be able to resist the Occitan cuisine offered in the valley's eating houses. This includes the delicious Toma di Elva, a traditional product prepared with artisan production techniques in the local dairies.
CUNEO ALPS: YOUR PERFECT HOLIDAY. MAIRA VALLEY