ROCCA DE BALDI AND ITS MEDIEVAL CASTLE
Rocca de' Baldi is a town in the Cuneo plain known for its medieval fortified fortress, built on a steep cliff overlooking the Pesio river. The castle, the nerve centre of the ancient village, houses the interesting "Augusto Doro" Museo Storico-Etnografico , in turn home to collections of everyday objects of peasant life and culture.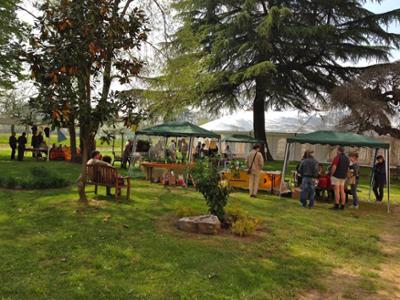 The Municipality of Rocca de' Baldi was established on 18 March 1448, with its statutes confirmed by Ludovico di Savoia. The town's main point of interest is the Castle, originally a purely defensive building, consisting of a 13th century tower and some adjacent rooms. Its tower, connected to the walls, featured Ghibelline battlements and the gate leading into the village at its base.

Inherited from the Morozzo family in 1643, the building was later enlarged and modernized by constructing a massive extension, which stretches towards the square and is embellished with a beautiful Doric portal and a large staircase. The rooms on the first floor, the object of skilled restoration work, have been restored to their former glory. Today, the seventeenth-century building is dark red, while previously it was white, like all the buildings belonging to the Morozzo marquises. The castle was the noble family residence until 1823: following further changes of ownership and different uses, today it belongs to the Municipality of Rocca de' Baldi.

The Castello also houses the Museo Storico–Etnografico designed around the "Augusto Doro Collection". Doro was an outstanding researcher born in Turin, but with study interests in the province of Cuneo. Together with the Società di Studi Storici di Cuneo, he created a significant collection of objects and testimonies from the peasant world, made into a museum in 1996. In 2011, the museum underwent a full reorganization, gaining an effectively communicative multimedia display with a strong visual impact.

The peasant tradition also re-emerges in the main festivals of the town: the ancient Festa della Badia, held in July, combines religious celebrations with popular and classical music concerts and tastings of typical products, and the Festa dei Bergé, which animates the streets of the village in October with antique, food and wine markets.