ROBURENT
IN THE HEART OF THE MONREGALESE ALPS
Between the Valli Corsaglia and Casotto, the territory of Roburent, together with its surroundings, is a very popular holiday destination, both in summer and in winter. All credit goes to the presence of the Sangiacomo Cardini Ski area and to its thriving natural environment, which invites you to enjoy the many hiking trails available in summer.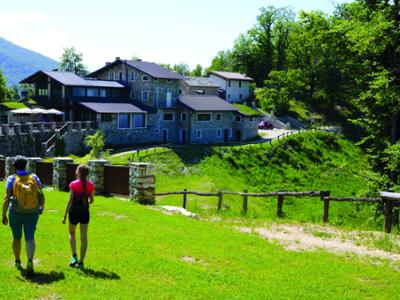 From an architectural point of view, the town hosts a fortified complex dating back to the 11th century, which is of notable interest. All that remains of its buildings is a circular tower called La Saracena, which has become the symbol of the place , also thanks to its elevated position. In the hamlet of San Giacomo, where the Tourist Office is also housed , we find Chiesa San Giacomo, a church built in Piedmontese Baroque style in the mid-eighteenth century, probably based on a design by Francesco Gallo from Monregalese.

The hamlet of Prà still bears witness to the tragic Salt War that shook the Monregalese area from 1680 onwards. On March 8, 1699, Prà was damaged during the final clashes of the conflict, with fires destroying many of the farmhouses. Today, the rock overlooking the town is still called "Rocca dei morti", or the "Rock of the dead", in memory of that tragic moment.

During the winter, the resort comes alive also thanks to the Sangiacomo Cardini Ski area, with its 35 km of slopes and 9 ski lifts. It also hosts freeride runs, ski schools and equipment hire facilities. Beginners have the opportunity to choose between the nursery slope in San Giacomo and the new playground with high-altitude treadmill on Mount Alpet. In summer, Roburent and the surrounding valleys are perfect for horseback riding or mountain biking and relaxing walks: the perfect venue for all kinds of sporting and active holidays, in an authentic environment with wholesome, tasty local cuisine.

Most of the main events are staged in summer and autumn. In June, three days of competitions and shows are organised on the downhill slopes of the Cardini hamlet and in San Giacomo with Monte Alpet Bike Fest, a stage of the Gravitalia national circuit. Between July and September, markets selling antiques, collectibles and crafts are held, alternating with many smaller, local, entertainment initiatives. In September it is the turn of the Fiera della Montagna, while in October, autumn is celebrated with chestnuts, markets selling typical products, performances and concerts of traditional music.

Roburent is also a successful wellness oasis, thanks to its sunny climate, natural surroundings and, above all, its plentiful water resources. The Fonti del Liset spout forth water believed to be the lightest in Europe, which offers multiple beneficial properties and is particularly suitable for newborns.
CUNEO ALPS: YOUR PERFECT HOLIDAY. MONREGALESI VALLEYS