RACCONIGI
AT THE COURT OF SAVOY
Racconigi is inextricably linked to the Castello Reale, one of the most interesting sites in the region. The presence of the Savoy family over the centuries is still tangible, thanks to a strong bond with the city, which can also be explored by following another common thread linked to the world of silk, while the surrounding countryside offers even more ideas for a visit.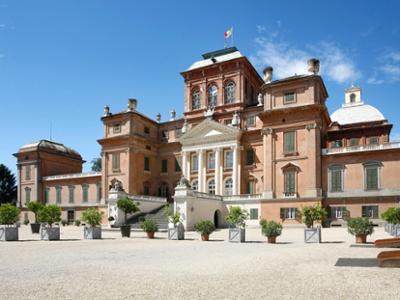 Racconigi is inextricably linked to its Castle. Founded around the 11th century as a stronghold in the Marca di Torino, it passed to the Marquises of Saluzzo and subsequently to the various branches of the Savoy family: the Acaja Savoy, the Racconigi Savoy and the Savoy Princes of Carignano, then Kings of Italy. Since 1997, the Castello Reale di Racconigi, one of the most interesting in the region for the richness of its spaces and lovely park, has been part of the UNESCO heritage sites included in the Residences of the Royal House of Savoy in Piedmont.

The presence of the Savoy is clearly evident in the names of the streets and in the sacred buildings of the city. The Santuario Reale della Madonna delle Grazie, a project by King Carlo Alberto to thank the Virgin for having protected the population from a terrible cholera epidemic that broke out in 1835, is still standing today thanks to the generosity of the heirs of the House of Savoy. The church, besides being a beloved place of devotion, preserves memories of the Royal family and testifies to the strong and lasting bond with Racconigi.

The city can also be explored by following another common thread that is linked to the world of silk. Traces of the production of silk trimmings and velvets date back to the 15th century, but it is from the 17th century, with the start of the industrial era, that Racconigi becomes the most important production centre of export yarn in Piedmont. Since 2017, the small Museo Giardino della Civiltà della Seta has been tasked with telling this precious five-century-long story.

The countryside surrounding the city offers several attractions worth visiting. Tenuta Berroni, a charming villa with landscaped gardens run by the Countess Alessandra Castelbarco Visconti, regularly opens its doors to the public and is available for events and stays. For over 30 years Racconigi has also been the seat of the LIPU federated Centro Cicogne e Anatidi, a vast wetland not far from the Castle, frequented by dozens of storks and birds that nest and stop during migration, a true spectacle of nature.
HISTORICAL RESIDENCES IN THE CUNEO AREA